Space and Place
Late last year I handed in my final thesis for a Masters in Therapeutic Arts Practice in Western Australia's Kimberley region. Throughout my time there I had built relationships with people, space, places, and came to experience that essentially that everything is energy, where it can be held, transferred or dissipated.
This project was set in a women's resource centre providing childcare, research, social enterprise, and community well-being services in a remote Indigenous community of Western Australia.
The artefact below is a summation and offering as a result of my findings from research over the year. I am unable to share the entire thesis for confidentiality purposes however will share snippets in the future. The artefact It is two pronged, with a visual arts representation of the relationship between space and people, and recommendations to establishing and maintaining a therapeutic creative arts space through acknowledgement, clearing, forming and empowerment.
The recommendations for a space to be, a place, are learnings and knowings from experience that can be used reflexively in future practice and integrated into the workplace. Each step details what I now know in regard to space, therapy and place, which ultimately is a recipe of how to bring meaning to space and be meaningful in place.
The image within the artefact is a representation of the influences between space and people, and the timeline development of the relationship between. Also, how this relationship influences the companioning process (therapy) and therefore awareness development. This artefact isn't only a set of recommendations as a reduction of my final inquiry – it is also a summation of what I have come to know, with reflexive practice on how to be moving forward in space and practice.
Acknowledging and creating relationship with space to bring meanings, and awareness to self can be achieved through incorporating acknowledgement, clearing, forming, and empowerment.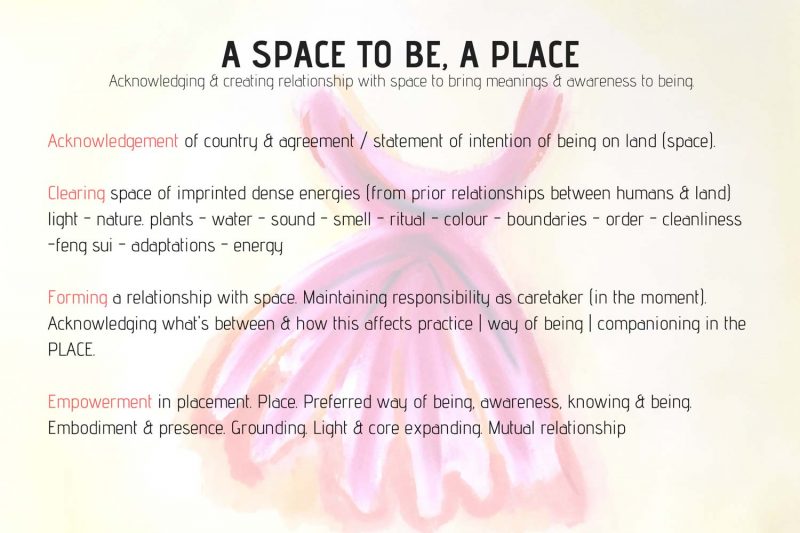 "Being present and connecting with space brings meaning to it and ourselves as we inhabit the spaces within our lives. These can be internal and external. How we relate to and within these spaces is a reflection and or projection of our state of being."
A raised awareness of the influences of energy and the intersubjective interactions with space, place and otherness, along with interpretations of therapy, allows for an integrated place to be.